At this moment, the Eurocopter EC155 B1 is the most comfortable and luxury helicopter in service for tourism in Vietnam. Travelers can hire the helicopter for tour from Hanoi to Halong Bay, Mai Chau or Sapa.
The EC155 B1 is Eurocopter's high end 5-ton twin-engine helicopter. It is an enhanced version of the proven Dauphin family and boasts the most advanced technologies available.
The EC155 B features a completely redesigned cabin providing 30% more passenger space than previous Dauphin helicopter models, plus a 130% increase in baggage hold volume. Other major improvements include a five-blade Spheriflex composite main rotor combined with the familiar shrouded Fenestron tail rotor to reduce vibration levels significantly. The EC155 B is powered by two 635 kW (851 shp)
Turbomeca Arriel 2C1 turboshaft engines mounted over the luggage hold, which feature a dual-channel Full Authority Digital Engine Control (FADEC) system. The EC155 B1 features uprated 697 kW (935 shp) Arriel 2C2s. The helicopter can be fitted with an anti-icing system to enable the aircraft to operate in very cold climates. The all-glass cockpit is equipped with an 'Avionique Nouvelle' integrated digital flight control system featuring Eurocopter's Vehicle and Engine Management Display (VEMD), which utilizes active matrix liquid crystal displays. The EC155 is also equipped with a four-axis digital autopilot, coupled to the engine FADECs for full-envelope protection, and is offered with a Health and Usage Monitoring System (HUMS).
Eurocopter designed the EC155 originally with three configurations, however, another two configurations were added in 2005. The Passenger Transport version can carry 12 passengers in comfort seats or 13 passengers in utility seats, along with 1 or 2 crews. The VIP or Corporate Transport version has a VIP lounge with working space accommodating up to 8 executives. The Casualty Transport version can carry 2 stretchered patients with up to 4 seated medical staff, or 4 patients on stretchers plus 2 seated medical staff. The configurations added in 2005 were for Offshore operation and Police & Parapublic missions ranging from patrol, airborne surveillance, SAR and EMS, the helicopter being fitted with specific mission equipment for these duties.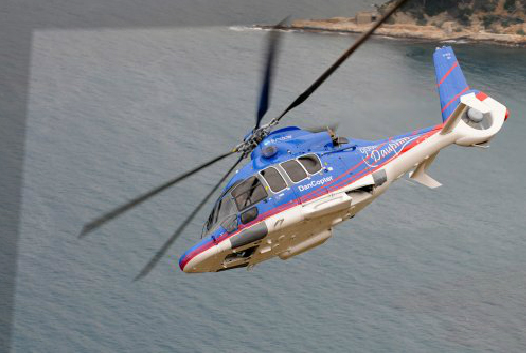 Helicopter EC155 variants
EC155 – The first prototype, built from modifying an existing Dauphin airframe.
EC155 B – The first production version, powered by two Turbomeca Arriel 2C1 turboshaft engines.
EC155 B1 – A more powerful model equipped with two Turbomeca Arriel 2C2 turboshaft engines and higher M.T.O.W., offering enhanced hot/high performance
AS565 UC – Designation of early military derivative stud
Take a visit to the Eurocopter EC155 B1