Indochina Charm Travel corporates with Northern Vietnam Helicopter Company (VNHN) to operate scenic tours to major travel destinations including Halong Bay, Danang City, Cham Island…
Northern Vietnam Helicopter Company (VNHN) is the subsidiary of Vietnam Helicopter Corporation, the state-owned enterprise under the administration of Ministry of Defense. Established on February 5th, 1989, VNHN was first known as Northern Service Flights company (NSFC).
During the first years of operation (1989-1994), the main activities of the company were to provide flights for the MIA program and participate in the management of two joint venture companies Helivifra and Indovina, which are flight service providers for oil and gas exploration.
In 1995, the company was re-established under the Decision No. 349/QD-BQP dated April 22nd, 1995 of Ministry of Defence. Since March 2012, the company has been renamed Northern Vietnam Helicopter Company.
Through nearly 25 years of establishment, it can not be denied VNHN's efforts to strengthen the organization, upgrade equipments, as well as gradually build infrastructure. VNHN has also continually diversified many kinds of services, improved the quality of human resources, invested in a modern fleet and aviation infrastructure to ensure aviation safety standards. VNHN is always proud of its modern aviation infrastructure and facilities and a fleet of advanced and multi-purpose helicopters including Mi-17, Mi-172, EC-155B1. In addition, VNHN has owned qualified and experienced staff, pilots and technicians who are trained basically in developed countries. Therefore, VNHN has steadily evolved and has become the reliable helicopter service provider for domestic and foreign customers. Currently, the company has sufficient capacity to provide helicopter services in the following areas:
Oil and gas exploration and exploitation.
MIA Program.
Tourism.
Search and rescues.
Medical emergency.
Aerial photographing, filming, and surveying.
Other aviation services required by customers.
VNHN is always committed to provide customers with the best quality services with persistent efforts to follow strict standards of aviation safety.
System of helicopter bases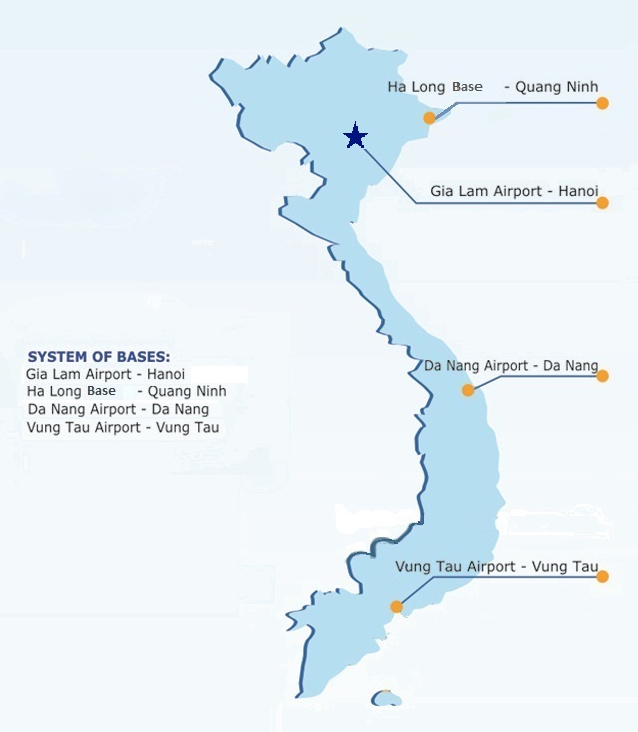 Helicopter Pilot Team
Pilots are recruited for their experience, talent and capability to control for incidents. They must pass the rigorous training of aircraft manufacturers to have sufficient capacity to ensure absolute safety in the air and on the ground.
Every year they are sent to instrumental flight rules (IFR) course in Russia and France and helicopter underwater escape training (HUET) courses in Singapore and Malaysia.
100% of VNHN pilots are certified as commercial pilots by Civil Aviation Administration of Vietnam (CAAV). Many pilots have accumulated over 6,000 flying hours, even some over 9,000 safe flying hours with a lot of experiences in various types of services such as flights for oil and gas exploration, flights for the MIA program, medical emergency or commodity transport through remote ​jungles, rugged mountains in complex meteorological conditions.
Technicians
With a team of skilled and experienced technicians, Technical Center is proud of having a lot of experiences in planning to use and maintain 2 types of helicopters (Mi and EC) regularly and safely. Many engineers are highly skilful and certified by Civil Aviation Administration of Vietnam. To continually improve skills and technical knowledge, engineers are taken training courses in European countries every year.
Moreover, Technical Center of VNHN was certified by Vietnam Civil Aviation Administration in accordance with VAR-145. It is certain confirmation about VNHN's compliance with rigorous international standards in aircraft maintenance for safe and effective flights.