Vietnam is so gorgeous throughout its natural S shape that many seasoned travelers are keen on traveling to this peaceful country, even the Americans. Travel to Vietnam from USA has been a trend for the USA passport holders who appreciate the serene and charming beauty of Vietnam.
Blessed with magnetic nature from the North through the Central to the South, Vietnam has an abundance of beaches, mountains, lakes, forests, and waterfalls for ecotourism to the full. Also, the S-shaped country is spotlighted with several significant historical, cultural, and spiritual constructions to satisfy the guests. For the nature fanciers, any trip to Halong Bay, Nha Trang City, Phu Quoc Island, Con Dao Island, or Mui Ne Beach (Phan Thiet City) becomes perfect. The enjoyable explorations of Mekong Delta with river canals, fishing villages, or floating markets are new and unique. Vietnam also has an exceptional and yummy cuisine.  The history and culture of the destined regions are also the appealing resources to discover.  
Visa for USA Travelers to Vietnam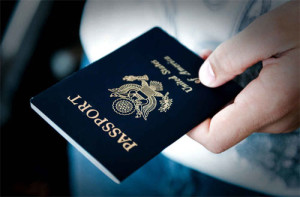 For an American passport holder who wants a tourist visa to Vietnam from USA, know that there are two ways to get it.
First, contact Embassy of Vietnam in your area to request a travel visa to Vietnam from USA. The paperwork has been simplified and takes only 3-5 working days to process. The necessary papers are your original passport (validity of at least 6 months before entry date), the visa application form, passport photo, and visa fee. You just come to the right place and follow the paper procedure to get the Vietnam visa with ease.
Embassy of Vietnam in Washington DC
Address: 1233 20th St NW #400, Washington, DC 20036, USA
Phone:+1 202-861-0737
Hours of Operation Monday–Friday 10:00AM to 12:00PM and 2:00 to 5:00PM
Consulate General of Vietnam in San Francisco
Address: 1700 California St #580, San Francisco, CA 94109, USA
Phone:+1 415-922-1707
Consulate General of Vietnam in Houston
Address: 5251 Westheimer Rd #1100, Houston, TX 77056, USA
Phone:+1 713-850-1233
Consulate of Vietnam in New York
Address: 866 United Nations Plaza #428, New York, NY 10017, USA
Phone:+1 212-644-0594
Second, apply for a Vietnam Visa on Arrival and get it at Vietnam International Airport. This method is only valid for air entry. Many travel websites offer this convenient service. What you do are: fill in the online visa application, pay the fee online, receive visa approval letter by email (usually take 2 working days), get the visa stamped at the arrival airports (Vietnam International Airports), and pay the stamping fee. Now, you get a visa to travel to Vietnam from USA easily. In fact, many people choose to take advantage of this modern channel. 
In order to support our travelers to get Vietnamese visa on arrival at shortest time, Vietnam Helicopter Tours offers the invitation letter for free, contact us now for best preparation !
Flights to Vietnam from USA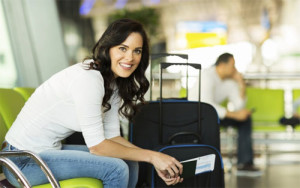 If you have a concern about how to travel to Vietnam from USA, then flying is the best solution. Just check out the flight routes from USA (New York, Atlanta, Los Angeles, San Francisco, or Detroit) to Vietnam (Hanoi or Ho Chi Minh City) and book a flight online! Many airlines offer this flight service, and some of the eminent names include Vietnam Airlines (with various special airfare promotions from US$490 for departure from Los Angeles or San Francisco / update Feb 2017), Cathay Pacific, British Airlines, Emirates China Eastern, Qatar Airways, etc… The average rate is US$1400. Due to budget, pick up the most suitable airlines and tickets to reach Vietnam! The earlier you book, the more affordable the airfare should be.
Vietnam Tour Packages to the Best Destinations for Citizens of USA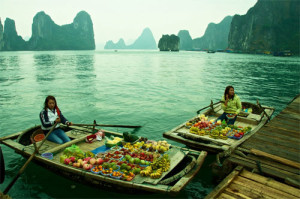 Taking a long flight to Vietnam, the American citizens are likely to select the grand Vietnam Tour Packages from USA which might last 10 – 14 days. The packages over two weeks promise to let you discover the charming S-shaped country from the North to the South. Once reading through the tour itineraries and deciding whether they are for you, make sure you know some of the best destinations in Vietnam. For the most rational decision, the itineraries should include any of landscapes of Halong Bay, Ninh Binh, Quang Binh (three most scenic desinations has been sellected by Warner Bros to film King Kong 3: Skull Island movie) or bustling cities such as Hanoi, Da Nang, Ho Chi Minh City or white sand beaches like Nha Trang, Phu Quoc, Con Dao etc. Of course, you might have your preferred places of interest, and it's best if those sites are included in the list.
The 10-14-days tour to Vietnam from USA usually covers various exciting activities to ignite the spark of interest in the travelers' minds. For instance, some of the most enjoyable activities in Halong Bay refer to swimming, visiting floating villages, or dining in a mysterious limestone cave. Meanwhile, the symbolic thing to do in Hanoi Capital is to take a cyclo ride around the small alleys of the ancient Old Quarter and stop by some traditional shops. Then, when it comes to Ho Chi Minh City, the sleepless and dynamic sense with a wide range of nightlife establishments cheers you up after midnight. Later, if you arrive at the serene Mekong Delta, just expect for the peaceful boat trip on the calming rivers, friendly family meals with the residents, chummy homestay experience, and fresh atmosphere at the lush orchards. See details of Vietnam tour 10 days here !
The grand packages also offer the best Vietnamese food to you. As you might know, Vietnam is one of the most fine-dining places in the world. Each day you stay here, your stomachs will be fulfilled with lots of delicate dishes, from rice to noodle. It is easy to notice that nice is the indispensable element in the Vietnamese people's daily meals. They eat rice every day. Besides, the noodle is the functional item which can be used for breakfast, lunch or dinner. With numerous variations found in the street vendors, restaurants, or local homes, you get ample mouth-watering and eye-catching resources to taste and experience. 
Vietnamese Food for USA Travelers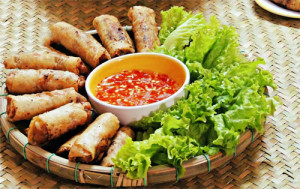 Among the most fantastic countries in the Southeast Asia that have the aromatic and delicious dishes on the earth, Vietnam owns a high ranking. Whether you visit the North, the Central, or the South of the country, then you're showered with dozens of opportunities to delight the palates. There are various succulent dishes to try. In the North, Vietnam has Hanoi Pho, Bun Cha and Nem (Vietnamese Fried Spring Rolls) for instance. While the Central region is famous for Bun Bo Hue, Quang Noodle, and Cao Lau Hoi An, the Southern area has Com Tam Saigon or Banh Xeo Nam Bo. Each of the destination owns the symbolic dishes for the USA travelers to discover the local cuisine and culture. As the Vietnamese food itself is competent, it is the key for what is called Vietnam foodie tours for the authentic culinary experience. Plus, the hands-on cooking sessions stimulate the gourmets to learn how to cook some of the Vietnam dishes and bring the recipes home.
Contact the local specialist Indochina Charm Travel at sales@indochinacharmtravel.com to customize your trip!