Chartering helicopters has been an exclusive service for Incentive group going to visit Halong Bay since years. 2 Russian built crafts – Mi-17 and Mi-172 helicopters are available at Gia Lam heliport in Hanoi for flight charter from Hanoi to Halong Bay. The helicopter Mi-17 is able to carry 22 passengers and the Mi-172 with 24 passengers. So for an Incentive group up to 46 passengers, the professional travel agent in Vietnam will suggest the tour within one day, 2 days or three days to Halong Bay with this special transfer. Instead of 4 hours by bus, the flight by helicopter from Hanoi to Halong Bay takes only 55 minutes including 5 minutes for panoramic flight on Halong Bay. The charter fee applied to return Hanoi – Halong helicopter flight is more than 8000 USD per craft and plus overnight fee if any. So travel by helicopter seems good for big group.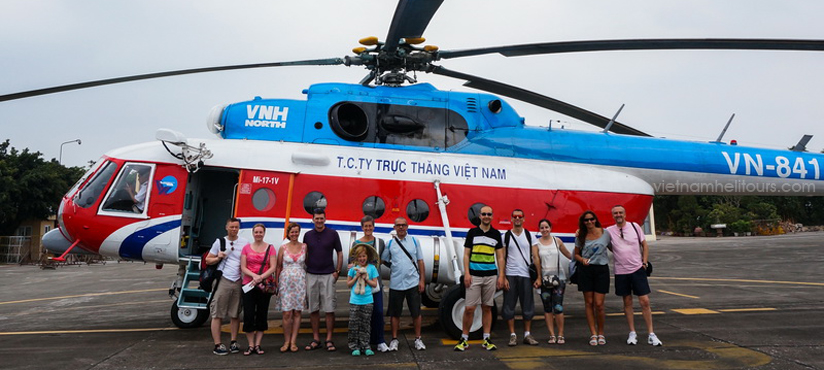 Since August 2014 onwards, a new flying service will be launched out in Vietnam and that seems more affordable for individual, couple and family travelers. The daily flight by 2 Cessana Grand Caravan 208B-EX seaplanes from Hanoi to Halong Bay is planned by Hai Au Aviation. Beside the standard 30-minute taxi flight to Halong in the morning and back to Hanoi in the afternoon, Vietnam seaplane provides also 3 other options for Halong sightseeing including 40-minute flight with Halong scenic tour, 25 minute Halong Bay Highlights and 40 minute "See – It – All" panoramic special flight through the heart of Halong Bay and venture deep inside the Gulf of Tonkin. With the cost from USD 250 per person, travel to Halong by seaplane promises being the most comfortable way for luxury travelers planning their trip to this UNESCO World Heritage Site. Charter fee at only approximately a half price in consideration with helicopter, seaplanes are already included in many travel agent new products.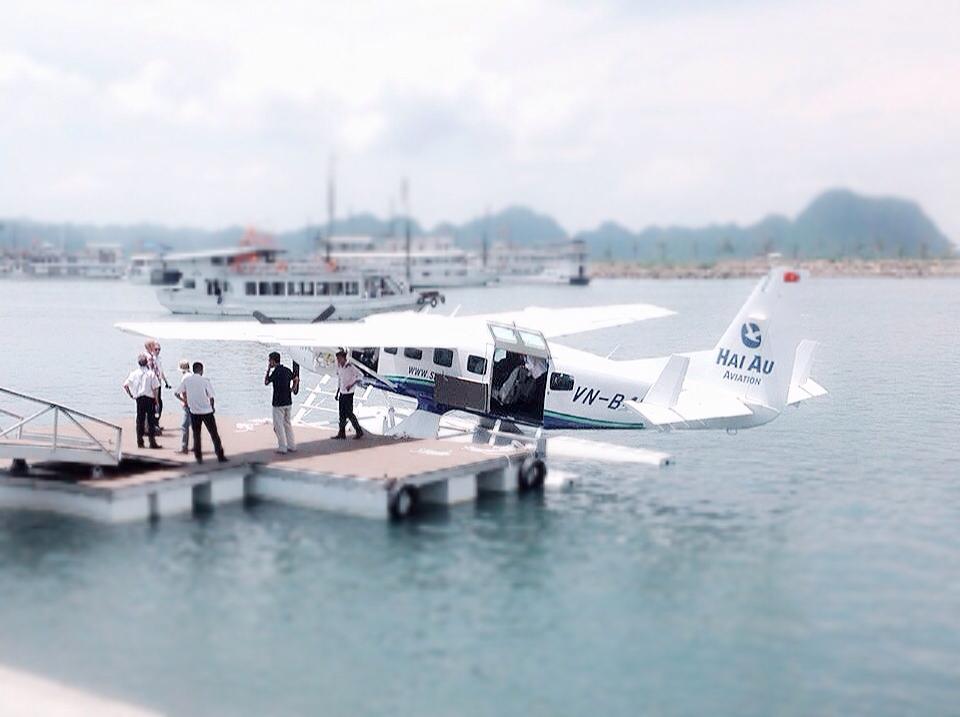 Being a ticket agent of Hai Au Aviation, Indochina Charm Travel presents the site VietnamSeaplaneTours.com which offers you Vietnam seaplane ticketing booking, seaplane charter service and seaplane tour to Halong Bay, Phu Quoc, Con Dao, Da Lat, Nha Trang, Mui Ne…
Updates on 20 July 2017 – Scheduled Flights to Ha Long Bay from Ha Noi
VNH (Vietnam Helicopter Corporation) operates scheduled helicopter flights from Hanoi to Halong Bay on Tuesday, Wednesday and Saturday from October 2017 onward. Only 12 seats per flight on mordern Eurocopter EC155 B1, travelers can reserve seats right now. Click here to book helicopter!
For daily air transfer from Hanoi to Halong, the ICT local air ticket office offers best prices. Click here to book seaplane!